Attention! You should make an appointment at the telephone number: +48 730 627 103.
More information about the tests at: https://igcz.poznan.pl/test-na-koronawirusa/
CONTACT
prof. Andrzej Pławski – head of COVID-19 Diagnostic Laboratory
email: andrzej.plawski@igcz.poznan.pl
phone: +48 667 379 473
phone: +48 61 65 79 215
OUR GOAL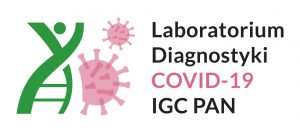 Special needs and social challenges related to the current epidemiological situation have led us to launch the COVID -19 Diagnostics Laboratory . The task of the Laboratory is to support health care units and other entities in fighting against coronavirus threat.
HOW DO WE WORK?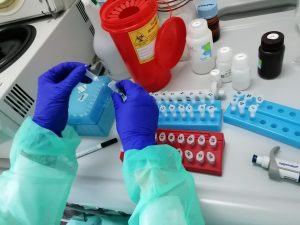 The laboratory detects the SARS-CoV-2 virus in swab material based on real-time PCR analysis (RT-PCR). The laboratory accepts samples that are devoid of any traits of infectivity. Prospective laboratory capacity is 270-360 samples per day. It is one of the very few centres prepared to perform mass-scale SARS-CoV-2 genetic tests.
PROFESSIONALISM
The Laboratory  is registered in Register of entities caring out therapeutic activities of the Governor of the Wielkopolska Voivodeship, the Register of Laboratories of  National Council of Laboratory Diagnosticians and the COVID list of Laboratories of the Ministry of Health.
OUR TEAM
The team of people carrying out the research are volunteers – scientists of IGC PAS, among them there are numerous certified laboratory diagnosticians, specialists in laboratory medical genetics, clinical geneticists and paediatricians.
COOPERATION
The laboratory cooperates with health care units and many other entities both regional and national. We also cooperate with local government units both with the authorities of the Wielkopolska Voivodeship and the City of Poznań.
RESEARCH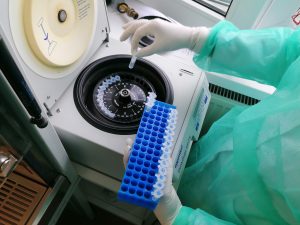 Apart from diagnostics, resarch is also being carried out, including analyses of the genome of SARS-CoV-2 viruses occurring in Poland, in order to characterize the sources of virus origin in our country, innovative methods of virus detection are being developed, as well as technologically advanced means of protection against SARS-CoV-2 together with innovative therapeutic approaches.
The SARS CoV2 virus genome has been isolated and then sequenced  by WTS (whole transcriptome sequencing) from 3 patients from Wielkopolska region. The obtained sequences were entered into GISAID (Global Initiative on Sharing All Influenza Data) and NCBI (National Center for Biotechnology Information) databases.
LOCATION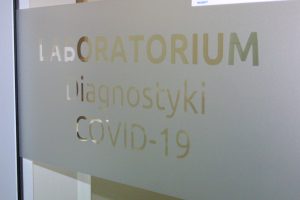 Institute of Human Genetics PAS
32 Strzeszyńska street
60-479 Poznań, Poland