A year has just passed since the launch of the COVID-19 Diagnostics Laboratory at the Institute of Human Genetics PAS, which supports the fight against the pandemic. During this time, we examined nearly 40 thousand. samples. Diagnostic activity is carried out under orders of individuals, entities and a contract with the National Health Fund.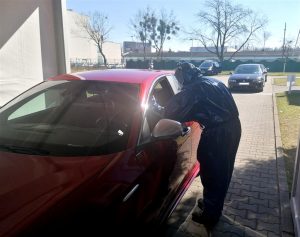 We carry out research for many entities:
hospitals, such as: Provincial Hospital in Poznań, Orthopedic and Rehabilitation Clinical Hospital named after W. Dega, County Hospital named after John Paul II in Trzcianka, County Hospital in Września;
institutions, eg the Poznań City Hall, the District Prosecutor's Office in Poznań, the Poznań County Office, the Border Guard, the Orphanage in Kórnik, Lech Poznań Club, TVP3;
companies, eg Volkswagen, Enea, PEPCO, Shimano, Ekoenergetyka Polska, VH Polska, Help VitalAire, Schattdecor, MODO Architektura, Euro-Comfort, Euroline, DOT2DOT, Dimark Group;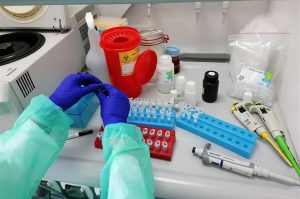 Most of the samples come from the Wielkopolskie Region, but we also test patients from the other regions of Poland and foreigners.
20 people are involved in the work of the laboratory – employees of IGC PAN.
We conduct research on the detection of SARS-CoV-2 virus infections based on an original diagnostic test. Recently, we were also the first to implement our own test for the simultaneous analysis of SARS-CoV-2 and influenza A and B virus infections.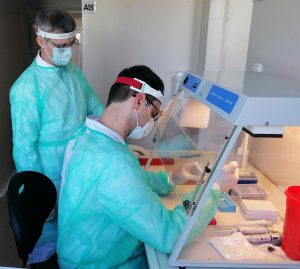 The scientists of the IGC PAN were the first to carry out a comprehensive comparative analysis of all available complete genome sequences (the structure of the genetic material) of the SARS-CoV-2 virus known so far in Poland.
Our experts regularly comment on the epidemic situation in the country and in the world: https://igcz.poznan.pl/warto-przeczytac/eksperci-z-igc-pan-komentuja-aktualna-sytuacje-pandemiczna/.
The laboratory is entered in the register of healthcare entities in the Wielkopolska Region, in the Register of Laboratories of the National Council of Laboratory Diagnosticians and in the list of COVID Laboratories of the Ministry of Health.