Group leader


JADWIGA JARUZELSKA
Prof. of biology
jadwiga.jaruzelska@igcz.poznan.pl
phone: +48 616 579 208
CV

The model of RNA-Binding Proteins (RBPs) mediated posttranscriptional gene expression regulation exemplified by a PUM protein

Assistant professors
PhD students
Postdoctoral fellows
Technical associates

KAMILA KUSZ-ZAMELCZYK

Associate prof. of medical sciences
kamila.kusz-zamelczyk@igcz.poznan.pl
+48 616 579 220

ERKUT ILASLAN

Graduate student
erkut.ilaslan@igcz.poznan.pl
+48 616 579 206

MARCIN PIOTR SAJEK

PhD in medical sciences
marcin.sajek@igcz.poznan.pl
+48 616 579 206

KRYSTYNA KWIATKOWSKA

MS. in medical biotech.
krystyna.kwiatkowska@igcz.poznan.pl
+48 616 579 206

MATISA ALLA

Graduate student
matisa.alla@igcz.poznan.pl
+48 616 579 207

MACIEJ JERZY ŚMIAŁEK

PhD in medical sciences
maciej.smialek@igcz.poznan.pl
+48 616 579 206

ŻANETA LEMAŃSKA

MS. in medical biotech.
zaneta.lemanska@igcz.poznan.pl
+48 616 579 206
Research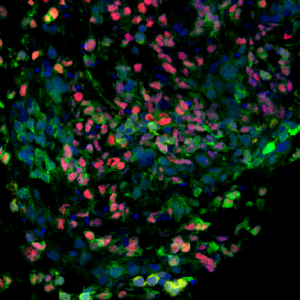 Regulation of gene expression in early stages of human germ cell development, in the context of infertility
This project is focused on the posttranscriptional regulatory mechanisms of the initial stages of the human germ cell development, involving RNA-binding proteins, such as PUMILIO and their cofactors such as NANOS. These proteins bind 3' untranslated regions of specific target mRNAs and in cooperation with the miRNA machinery determine their fate. We are identifying ribonucleoprotein (RNP) interactoms built by such proteins and study their dynamics during PGLCs specification and differentiation. In particular, mutated RNA-binding proteins from patients suffering infertility are used to identify potential changes in such interactomes. We expect that such approach will help to pinpoint crucial pathways in germ cell specification and early development and unveil molecular basis of human infertility. As the model, we use the human W15 stem cell-line and differentiate it towards PGLCs. We perform several high throughput approaches analyzes and use bioinformatic tools.
Keywords: posttranscriptional gene expression regulation, RNA-binding proteins, microRNAs, germ cells
Identification of novel genes implicated in human sex determination
This study is focused on sheding light on molecular mechanisms of sex determination and differentiation on order to understand genetic bases of sex development disorders (DSD). We identified a couple of candidate genes involved in sex determination and differentiation and validate their connection with those processes. We coordinate the work of Polish groups within an international project addressing this issue. The project is conducted by the University of Geneva, in cooperation with the Institute of Human Genetics of the Polish Academy of Sciences in Poznań, Medical State University of Yerevan, National Academy of Sciences of Ukraine in Kyiv, Poznań University of Medical Sciences, and the Children's Memorial Health Institute in Warsaw.
Keywords: human sex determination, disorders of sex development (DSD)
Projects
National Science Center Poland 2019/35/B/NZ1/01665 (2020-2024); NANOS1 RNP-interactome: structure and dynamics during specification/early stages of human germ cell development – significance for human reproduction (principal investigator)
National Science Center Poland OPUS 2013/09/B/NZ1/01878 (2013-2017); Global PUMILIO regulation of mRNAs and role of MAELSTROM, a nuage component and a cancer testis marker, in human seminoma (principal investigator)
Swiss National Science Foundation SCOPES number IZ73ZO_152347/1 (2013-2016); Genetics of human disorders of sexual development (Polish coordinator)