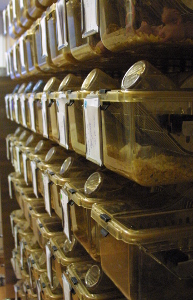 The Animal Repository occupies an area of 134 m2. The Animal Repository at IHG PAS has the main purpose of maintaining laboratory animals (mice and rats) during experiments under standard sanitary and hygienic semi-barriers.
Four rooms for sterile animals are equipped with individually ventilated cages, four isolation chambers for immunocompromised mice, and laminar flow cabinets. There is also autoclaves room for cages and lab equipment sterilization. A well-equipped sterile operating room is available on these premises. The Animal Repository also hosts a separate non-sterile room with standard equipment for maintaining laboratory animals.
The Animal Repository at IHG PAS meets all the requirements under the applicable law and it is placed on the experimental units list os Ministry of Science and Higher Education.